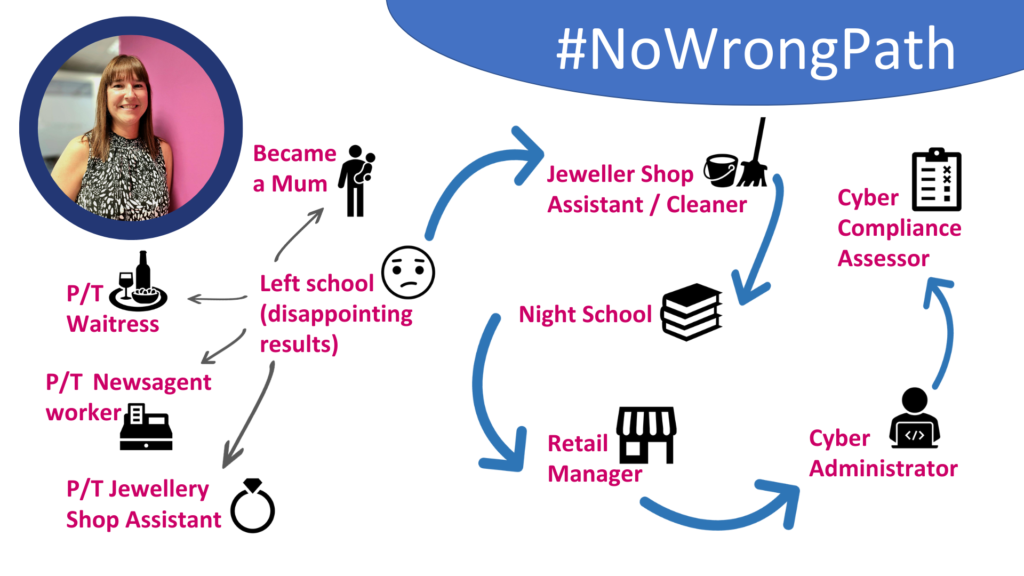 No wrong path. When it comes to education and careers, this statement sums me up perfectly.
Unlike some I enjoyed school, and, like many, I dreamed of one day having the ideal job that I would love and would earn me lots of money. I didn't know what I wanted to do but I quite liked the idea of being a nurse.  
What I didn't plan for was becoming a single mother whilst at school. This completely altered my outlook on life and made me question my career plans. I felt there was no point in studying too hard for my exams as I wasn't going to be able to go onto further education, not in the short-term anyway. Even though I had a very supportive family around me I knew my place was with my son and raising him to the best of my ability.  
I also knew that I had to support us financially in some way even though I was still studying. Initially, I worked as a waitress, then a shop assistant at a local newsagent, before starting a Saturday job in the family-owned jewellery business. My first roles included cleaning the shop and serving customers.  When I left school, I started working full time for the family business where I spent the next 30 years.  
Skills I learned on the way
You might be asking yourself why my story is relevant to a school leaver? Well, here's how. Whilst working in the Jeweller, I learned how to run the business successfully alongside my Stepdad. I became proficient in all aspects of running the shop including repairing antique clocks/watches, repairing jewellery, ordering stock, bookkeeping and becoming a Master Engraver.  I may not have had great academic qualifications, but the skills I learned on the job, would be worth their weight in gold to me. I just hadn't realised it yet.  
During the first few years of working, it dawned on me that I hadn't done myself justice at school (granted I had other things to think about) so I decided to go back to night school to prove to myself that I could do it. With a lot of hard work and juggling, I gained a couple of O-Grades and Higher English along with Higher Computing.  
The path to Cyber Essentials Assessor 
Mid 2019 and before the 'world changed' my Stepdad announced that he was finally retiring. I was asked if I wanted to take on the business but felt that at my age it was too much for one person. What was I going to do? I loved my job, had extensive knowledge in it and was confident and comfortable.   
My other half, who is GM at Converged, said there was an admin role opening up in the cyber department. My first thought was what do I know about cyber or admin? I was assured that my "skills were transferable", a term that I have reverted to so many times over the past few years. I got the job and was one of the first in the company offered the choice of working from home before it was a trend. I was nervous, lacked confidence and felt completely out of my depth.  
I need not have worried. I had a fantastic support team and brilliant mentors, who shared their knowledge and provided constant guidance. After three years of dedication and training I successfully gained my Cyber Essentials Assessor qualification passing first time. As I look back to the youngster leaving school, I would never have thought such a career change was possible. 
You may not get the grades that you want, or land the dream job to start with, but work hard, grab every opportunity, listen to advice and don't think too much about what you want to do with the rest of your life. 
It doesn't matter how many jobs you have along your path, it's the skills you learn in these roles that's important. Remember, your skills ARE transferable and with the proper support, anything is possible. In both the family business and at Converged, I have been surrounded by people who believed in me. I now believe in myself, and you can too. It just takes time, and as a school leaver you've got all the time in world. 
P.S. For those of you who are interested my son has gone on to achieve 2 degrees, has a successful career and is married with a beautiful family.