As the sheer number of suppliers involved in meeting an organisation's communication and computing needs rise, so do the operational headaches. Think multiple invoices, contracts & SLAs, even more time spent on call centre hold, confusion over responsibility, logistic challenges and more. At worst it means down-time and we all know what that does to our bottom line.
Even a large company with a dedicated IT department can have difficulty maintaining services while solving every challenge thrown at them. For SMEs who may operate with one full-time ICT staff (if they're lucky), the situation becomes overwhelming, fast.
The way forward is Managed Services.
Consider our Managed Service like gaining your own IT Department or an extension to it. We absorb the usual training, equipment and personnel cost of an IT function and present them as a fixed monthly charge. Our experienced and fully accredited team is highly efficient in keeping costs low, time to deploy short, effectively scaling operations and proactively ensuring 24/7 uptime.
Managed Services at a glance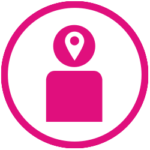 One point of contact with full responsibility for IT service delivery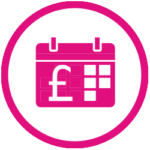 One fixed monthly bill (with no hidden costs) makes administration a dream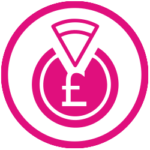 Reduced Capex will keep finance happy
A reduction in Opex in many cases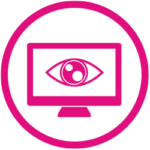 Proactive network monitoring means no more costly breakages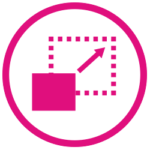 Easily scalable as your workforce grows or reduces
Our experts run your IT for a fixed monthly cost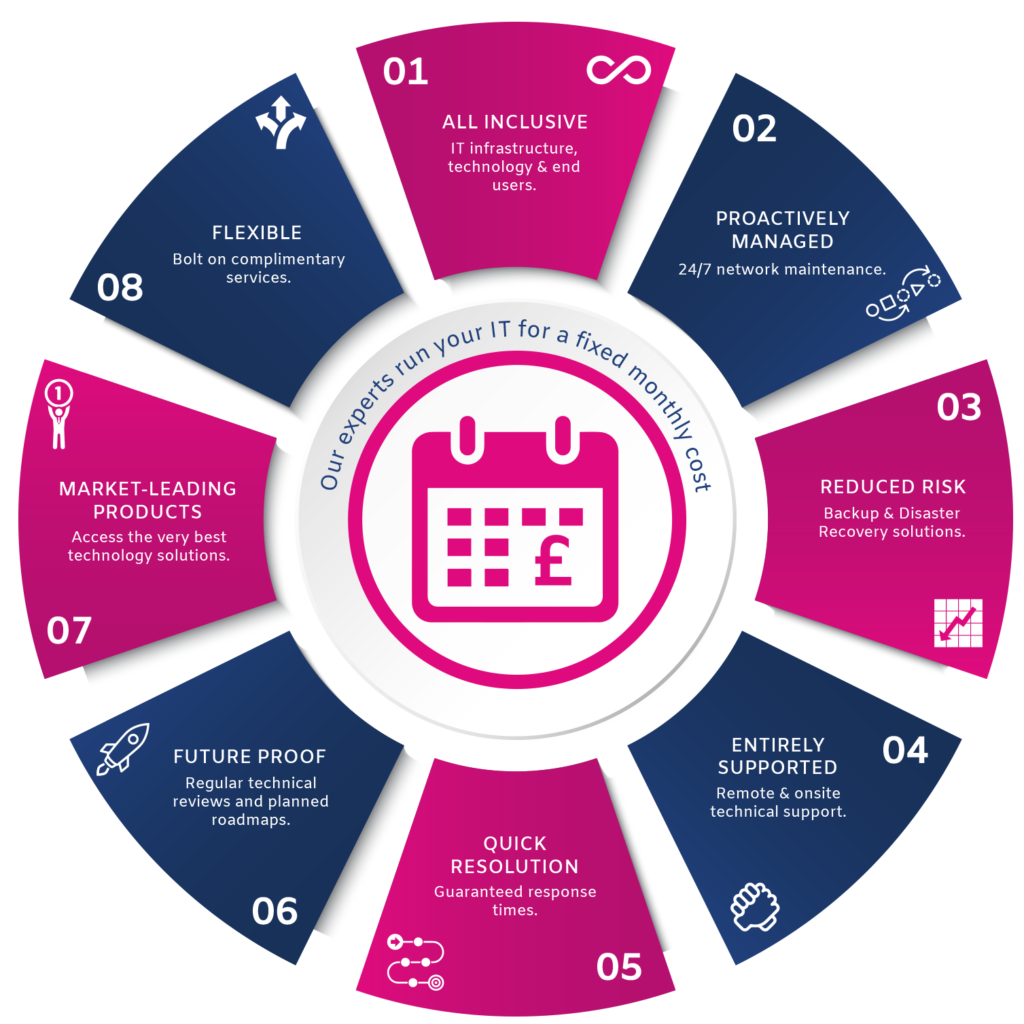 We've put years of IT & business experience into developing an all-encompassing managed service that our clients love. And it's easy to see why.
All Inclusive: We take responsibility for your entire IT infrastructure, including all types of technology and all of your end users.
Proactively Managed: We ensure that your network is proactively maintained to the highest standard, with 24/7 monitoring of key service areas including servers, devices and connections.
Reduced Risk: We manage your Backup, Disaster Recovery, Business Continuity, Antivirus and Web Filtering solutions.
Entirely supported: Our dedicated service desk, manned by highly skilled engineers will support your staff around the clock both remotely and on-site.
Quick Resolution: From day-to-day advice and troubleshooting to complex problem diagnosis and resolution, we work to simple, tailor made Service Level Agreements.
Future-Proof: We conduct regular technical reviews and formulate roadmaps, to keep you and your systems up to date and future proof.
Market-Leading Products: We only partner with the very best technology providers, so you know that you're accessing the best quality there is out there.
Fixed Cost: Our managed services are based on a cost per user. Nice and easy.
Flexible: You can add optional services to your agreement at any time including; Out of hours support, on-site secondment, cyber security solutions, telecoms, IT equipment procurement and more. That's the benefit of working with a bona fide full-service IT provider.
Our proactive experts work in the background to optimise your service and provide highly responsive support when you need it.
It's easy to see why managed services are becoming the model of choice. And our position at the forefront of new technologies means that our clients are always one step ahead. We don't stand still, and neither will you.
If you're attracted to going down the Managed Services route but have questions around your existing IT set up, then our Business Support Service is for you.
Business Support designed for SMEs
If you're unsure if you're getting the most from your IT, then you're not alone. It's very often the case that an SMEs IT infrastructure, application and device portfolio grows organically as the company grows too. This ad-hoc approach inevitably brings about inefficiencies and can leave the company open to risk (and a lot of head scratching).
This is why we're excited to offer an accessible IT audit and delivery service tailored to SMEs. At a fraction of the cost of employing an in-house resource, this superior level of service is no longer reserved just for larger companies. And with businesses of all sizes now reliant on tech, why should it be?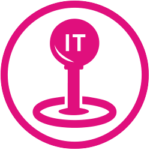 Undertaking an integrated analysis of IT as a whole can bring many benefits including business performance improvement, cost savings and supporting growth. Whatever your objective, your dedicated IT Delivery Manager will work with you to achieve it.
Our Business Support Service follows three simple steps: 
Our Business Support Service follows 3 simple steps: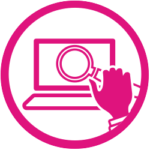 Working together we'll build an all-encompassing view of your current IT set up in terms of services, assets, costs, systems and processes. While we want to unearth underperforming areas, we're equally interested in identifying what's working well so that we can capitalise on these. If it's not broken, then there's no need to fix it.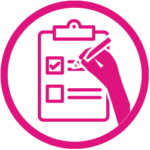 We'll lay out a clear and non-technical vision for IT change over a set period of time, outlining essential and non-essential works and related costs. If input from the wider team is required at this stage, we are more than happy to engage with your board or management team to help guide any decisions.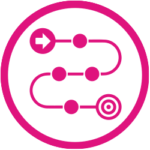 Our plan for improvement will include actions, responsibilities, timescales and costs. We're here to ensure smooth delivery and regular reporting will guarantee that we stay on course. For added flexibility we provide a range of support agreements, from pay monthly to Pay as You Go services. It's your choice.