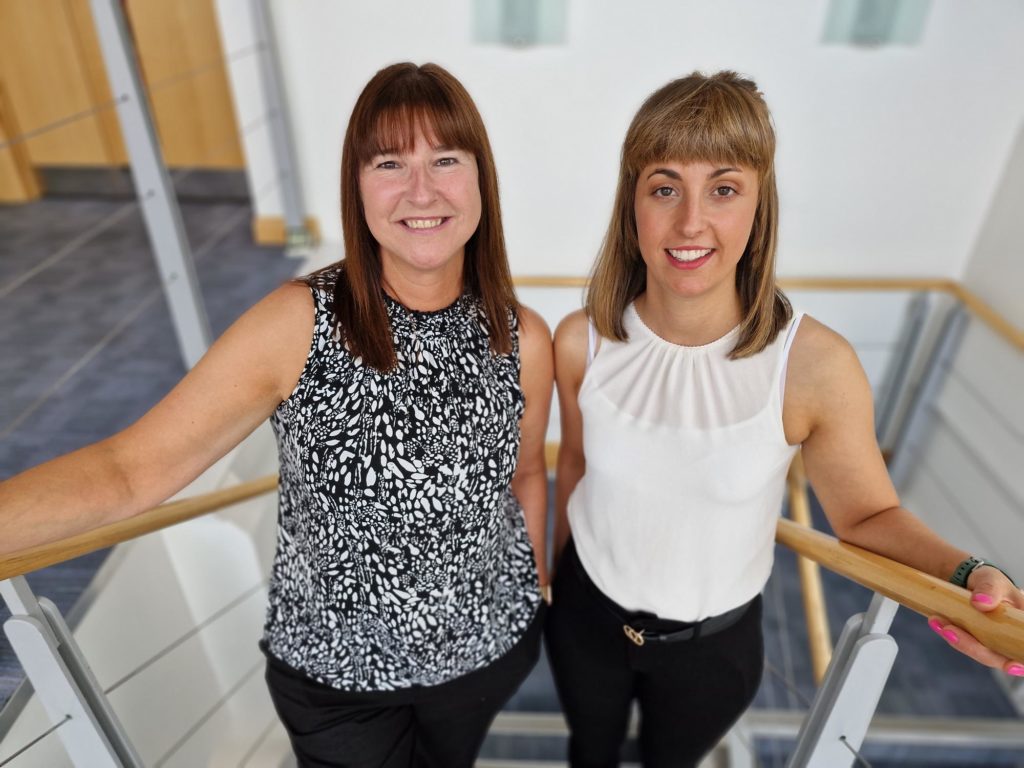 Two women are bucking the trend when it comes to cyber security expertise, having recently become fully qualified Cyber Essentials Assessors. Nicola McKay and Tiffany Murray, who work for Aberdeen-based IT, cyber security and internet service provider, Converged Communication Solutions, have joined the male-dominated field, having each amassed over three years of experience in IT security and recently passed the Assessor Skills exam.
Only 20% of the cyber security industry is female, according to the world's leading researcher in the global cyber economy, Cybersecurity Ventures, amidst an estimated shortage in cyber professionals of three million.
Women underrepresented in cyber field
"It's high time women were proportionately represented in the cyber industry, and there is clearly huge potential for women to leverage their experiences into success within the sector," says Converged's Managing Director, Neil Christie. "Nicola and Tiffany were the only females of the 14 students on their respective courses, so this is a significant step forwards and a great achievement for them.
"Cyber-attacks take a variety of forms, but the vast majority are very basic in nature, carried out by relatively unskilled individuals," continues Neil. "Investing in Tiffany and Nicola's training and development was an easy decision – allowing us to continue to have all the skills in-house to take clients from initial assessment through to accreditation.
Guiding clients through their whole cyber journey
Their routes to qualification were very different: joining Converged in 2019, Nicola acquired on the job training, and supported clients through the Cyber Essentials process, ensuring accurate completion of the Cyber Essentials question set, identifying areas for improvement and submitting the final application for approval. As an Assessor, she can now guide clients through their whole cyber journey including testing and issuing accreditation. She works closely with the IASME Standard and is the company's expert on the Cyber Essentials scheme. Tiffany graduated from Abertay University with a BSc (Hons) in Ethical Hacking and joined Converged in 2020 as Cyber Security Analyst. As a qualified ethical hacker, Tiffany is well placed to identify weaknesses in a company's network and infrastructure. Her skills include network security, cyber security risk assessment, vulnerability assessment and phishing tests, technical and IT support. Assessors are subject to periodic certificate checks by IASME and required to attend monthly meetings and regular training courses to maintain their accreditation.
Nicola was heavily involved in the two phases of the Scottish Government's Digital Boost Fund, which saw the allocation of funding to successful SME applicants, allowing Converged to deliver a cybersecurity gap analysis to 180 businesses across Scotland. Nicola has recently signed off Converged's 200th security certification on behalf of a multinational energy client, her first as a Cyber Essentials Assessor.
Guard against the most common cyber threats
Cyber Essentials is a UK government and National Cyber Security Centre certification scheme designed to show an organisation has a minimum level of protection in cyber security through annual assessments to maintain certification. The scheme helps businesses guard against the most common cyber threats and demonstrate their commitment to cyber security. There are two levels of certification: Cyber Essentials and Cyber Essentials Plus which involves a hands-on technical verification by a Certifying Body.
"Investing in Cyber Essentials allows a business to demonstrate security against a cyber-attack, and helps them attract new business," says Neil. "Our cyber security assessors guide businesses through the process, giving them the confidence to take control of their cyber security."
IASME has accredited over 300 Certification Bodies, comprising more than 800 individual assessors across the UK who are trained and licensed to certify organisations to the Cyber Essentials Scheme. There are only 22 Certification Bodies in Scotland, with Converged being just one of seven north of the central belt (1 of these is in Stornoway).