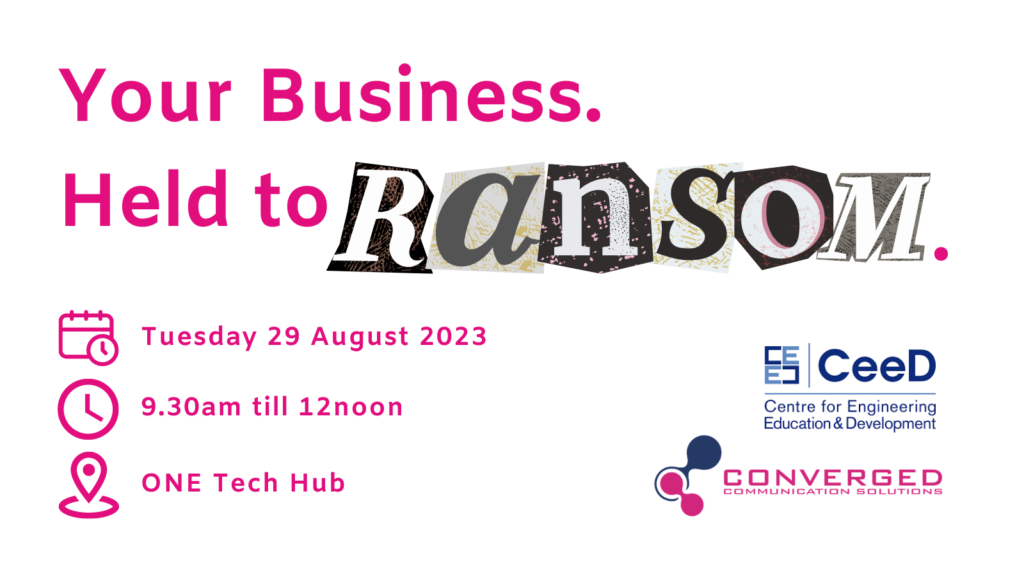 How long could your business survive without its data? What is it worth? And how far should you go to ensure its return? These questions and many more will be top of the agenda for Aberdeen's Converged Communications Solutions later this month as the company delivers a cybersecurity workshop at the city's ONE Tech Hub organised by not-for-profit business collaborative, CeeD.
"These are the questions that victims of a successful ransomware attack end up asking themselves, and wishing they'd pondered sooner," explains Robbie Ross, Converged's Chief Security Officer. "Having experienced the aftermath of cybersecurity breaches – take it from me it's an unpleasant place to be, especially when there are simple steps a company can take to prevent one in the first place."
Ransomware is the most acute threat facing businesses and organisations in the UK according to the National Cyber Security Centre. "Since UK firms are statistically the most likely to pay a ransom, this makes all our businesses a target of particular interest," continues Robbie. "What does an attack look like? Who is likely to notice the breach first? Is it legal to pay a ransom? What's the likelihood of data being returned? We'll share the answers at CeeD's interactive workshop."
Join Converged's Chief Security Officer, Robbie Ross and Technical Manager, Gavin Simpson, as they openly talk ransomware, discuss lived experiences, dissect the components of an attack, and provide expert advice on how to plan, prepare and safeguard your data now. The 1.5 hour session will give a unique perspective of a breach straight from the IT department.
"As recently as 10 years ago, 'in the wild' ransomware didn't exist. However today, and having been embroiled in the immediate and longer-term aftermath of several incidents, it's the sole reason why I would ever consider leaving a job I enjoy." explained Gavin. "That's why I'm motivated to share best practice, and the goal is that attending companies leave better equipped to stay ahead of the bad guys."
CeeD is a growing community of businesses and academics delivering best practice in the pursuit of operational excellence. The organisation has co-hosted several awareness sessions with Converged, in recent years.
Converged Communication Solutions is an independent, Aberdeen-headquartered IT and cyber security provider. Established in 2005, the company offers an integrated range of Internet connectivity, IT support, telephony and cyber security services to companies and organisations across Scotland. It employs around 30 staff, which includes strong technical support and cyber security teams. Converged is a Certification Body for the Cyber Essentials Plus and Cyber Essentials standards, an assessor for the IASME Governance Standard and a CityFibre partner. More information about Converged Communication Solutions is available at www.converged.co.uk or telephoning 01224 656380.
ONE Tech Hub is the home to northeast Scotland's digital tech ecosystem, where an ambitious cluster of tech start-ups and scaling entrepreneurs, innovative businesses and support organisations meet, share, learn, work and grow together.