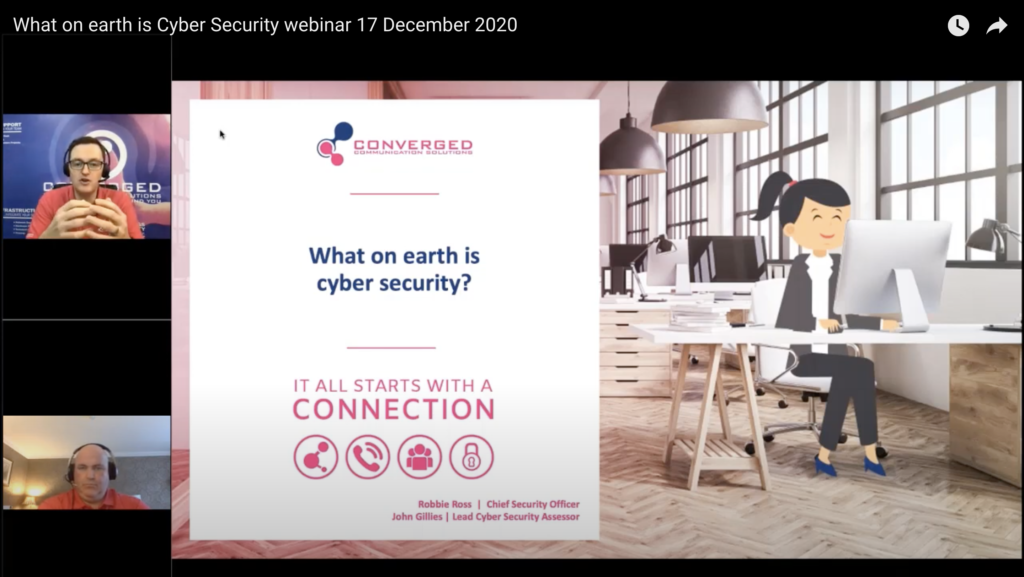 IT and cyber security company Converged Communication Solutions has joined forces with Highlands and Islands Enterprise (HIE) to deliver two free cyber security webinars later this month.
The online events, titled 'What on earth is cyber security', will be held on Monday, 22 and Friday, 26 February.  They are designed to provide an introduction to cyber security for micro businesses and small and medium-sized enterprises that have a limited knowledge of the subject and explain how they can better protect themselves from cybercrime.
Delegates will be guided through both events by the firm's chief security officer Robbie Ross and lead cyber security assessor John Gillies.   They will explain what cyber security is, why it is important for every business regardless of size, the risks posed by different cyber threats and ways to mitigate them, including implementing the UK government backed Cyber Essentials scheme.
Converged, which has offices in Aberdeen and Inverness, conceived the webinars following similar events held in November and January for Highland businesses.  During these it was discovered that many small organisations lack any real understanding of cyber security, one of the biggest IT issues facing businesses and charities.
The Monday webinar will feature a question and answer session where delegates will have the opportunity to raise their concerns about the topic, while queries posed by attendees at previous sessions will also be covered.  Friday's session will be centred on the experience of a Highlands and Islands business that suffered a cyber-attack and explore how it dealt with it and the steps taken to bolster its cyber defences.
In December, HIE received £800,000 from the Scottish government to extend its Digital Enablement Grant scheme.  This supports businesses in the region to invest in improving their digital technologies and capabilities, and e-commerce functionality.  The funding highlights the continued need to support firms in rural Scotland to digitise their businesses.
Robbie Ross, chief security officer with Converged said: "Cyber security is a hugely important topic, but one that is overlooked by many small businesses through a lack of understanding or what they see as cryptic terminology.  These webinars are about stripping the topic back to basics, delivering it in an easy to understand way and addressing the different concerns people have, while highlighting how cyber security affects everyone.
"The past year has seen a digital transformation for nearly every business and household.  Coupled to that is the continually increasing threat posed from cyber-attacks, so appreciating the importance of good cyber security is more crucial than ever.
"Through conversations with HIE and businesses in the Highlands and Islands it was apparent that firms in the region are not benefitting from the same level of guidance about cyber security as their compatriots elsewhere in Scotland.  Cybercrime can occur anywhere.  That is why Converged is committed to supporting organisations across Scotland, using this type of webinar, to understand different cyber threats and assist them in mitigating the risks posed."
John Mackenzie, HIE senior development manager, said: "HIE has been working closely with Converged to ensure that the rural economy gets the access, support and advice on cyber security that It needs.  We have been delighted with both the levels of engagement generated and the level of expertise provided by Converged, which they have communicated in a manner which is designed to be practical and supportive.
"As a result of the Covid pandemic, digital technology has become increasingly important with businesses and individuals relying daily on technology personally and professionally.  It follows that the threat of cybercrime is a topic that requires greater awareness raising and working with Converged has helped us get that message out across the Highlands and Islands."
The 'What on earth is cyber security' webinars will be held on Monday, 22 and Friday, 26 February between 10:00am and 11:00am.