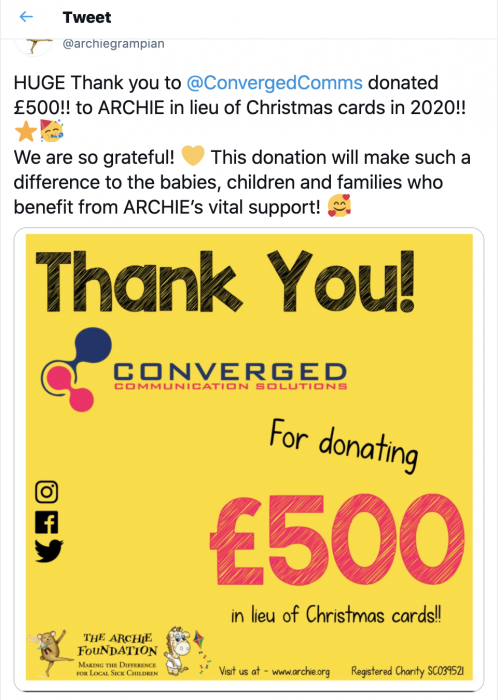 In lieu of sending cards to our clients, it's become a Converged tradition to support local causes at Christmas. Never has this gesture been more apt and so we're pleased to have donated £500 to both Abernecessities & The ARCHIE Foundation for Christmas 2020. 
We received this note from ARCHIE and wanted to share it with you all:
Following on from our social thank you, we just want to acknowledge your recent £500 donation and provide some examples of where your money has been spent. Thanks again to all at Converged Communications from myself, Emily and all the team at ARCHIE.
2020 was, as it was for so many, a difficult year for us. We saw a huge increase in the number of toys and activities (online music, clowns, etc) we gave out across Royal Aberdeen Children's Hospital and Tayside & Inverness Children's Units. This was mainly due to COVID visiting restrictions of one person per patient, which meant the play team (one member funded by ARCHIE) and staff were needed more than ever to entertain and distract children.  We also gave emergency grants to families who were struggling with the financial implications of a sick child such as petrol costs, something people rarely think about, but it has a huge impact on families already struggling with the stress of having a sick child.  
Our Bereavement Network has also seen a 100% increase in referrals since it joined the ARCHIE family in 2018.  In 2020, 167 children received direct support and many more were impacted through the 270 professionals we trained and the 6 school communities we assisted with sudden deaths.
All of this could not have been achieved without support of companies such as yourself. If you have any questions, ideas or feedback please do not hesitate to contact me or should you, once restrictions are lifted, like to meet the team at ARCHIE or visit to see the difference your money makes.
Kindest regards
Lynne
Lynne Brooks
Gifts & Donations Officer
To find out more about ARCHIE or to make a donation visit https://archie.org/