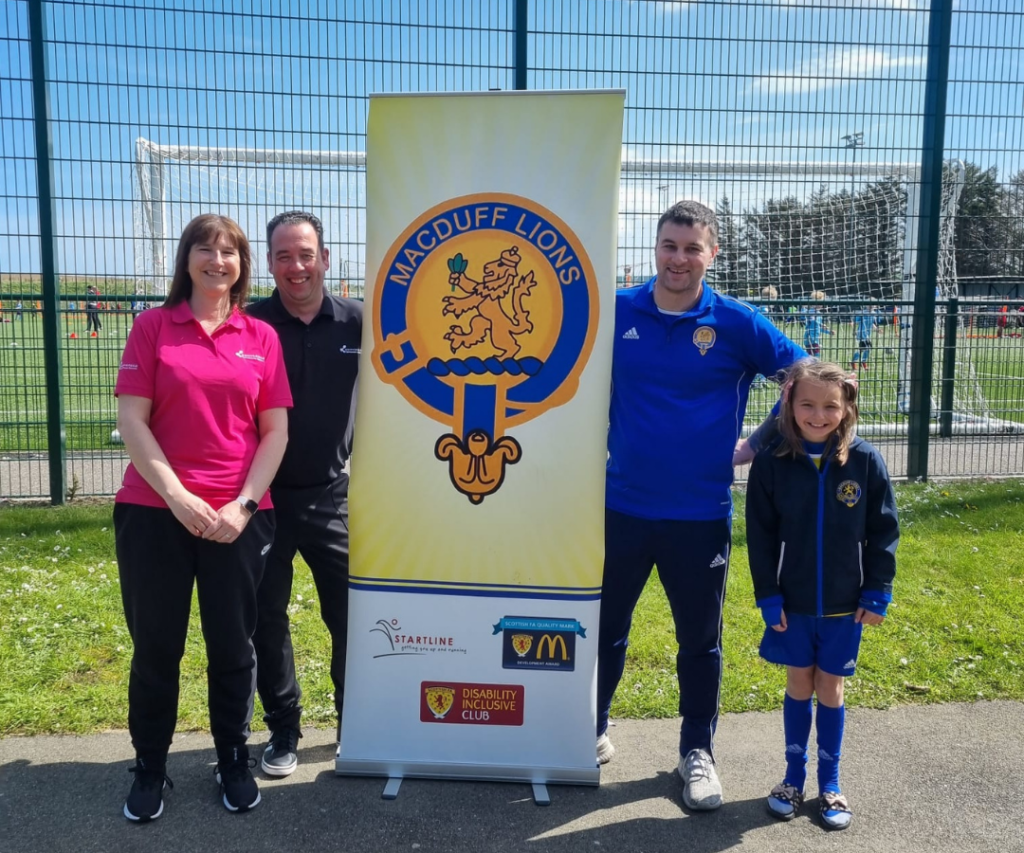 An Aberdeenshire youth football team is now being roared on by Scottish IT, cyber security and internet service provider Converged Communication Solutions after receiving its backing.
The firm, which has offices in Aberdeen and Inverness, is sponsoring Macduff Lions FC in a move that will make playing football with the club more accessible for local youngsters.  The two-year sponsorship agreement will see Converged provide £2,000 of funding to the club, with the money being used to reduce the membership fee for children by 60% per season.
Macduff Lions FC is a volunteer run football club for children aged three to 12 years old.  The club currently has around 90 girls and boys as members, with Scottish Youth Football Association trained volunteer coaches providing structured training for the children.  The youngsters play in matches and festivals across the north-east – home fixtures are played at Macduff Sports Centre.
Encouraging more local children to play football
Funding from Converged will help reduce the club's annual membership fee from £100 to £40 for the next two seasons.  It is a move which Macduff Lion's hopes will encourage more local children to play football, while also supporting families at a time when the cost of living is rising. 
Converged will also deliver a virtual cyber safety training session to the players, their parents and team coaches.  Led by chief security officer Robbie Ross, the session aims to educate everyone about staying safe online and the steps that can be taken to help defend private information.  The importance of using robust passwords or passphrases will also be discussed, alongside the role that people of all ages can play in being good digital citizens.
Backing Macduff Lions is further evidence of how Converged is supporting the local community, having recently unbundled Banff's Openreach exchange.  This lets Converged, as an Internet Service Provider (ISP), place its own equipment directly into a local exchange with 24-hour access.  It allows Converged to offer more competitively priced and flexible internet connections to customers in the area, widening consumer choice.
Making football more affordable for all
Stuart Gray, chairman of Macduff Lions FC, said: "Macduff Lions is pleased that Converged Communication Solutions has chosen to align with the club on making football affordable for all.  Through Converged Communication Solutions' substantial donation to the club, we are in a position to offer a more affordable and cost-effective membership plan for all members both old and new.  It has allowed the club to reduce membership fees by 60% to a flat rate fee of £40 per season.
"We are grateful to Converged Communication Solutions for its donation and look forward to working in partnership going forward."
Andy McKay, general manager of Converged Communication Solutions, said: "In our digital world, it is important to encourage youngsters onto the pitch to play football as it can be hugely beneficial for them.  As with clubs across the country, Macduff Lions FC is an important community asset.  Its goal to make football more affordable to children and their families is very admirable and Converged had no hesitation in signing up to back the strategy.
Local support extends off the pitch
"As a business we are committed to supporting local communities to get online with a resilient connection and ensuring they stay safe when online, doing so by unbundling local Openreach exchanges, including those in Banff and Macduff.  As we start to support local business to get on the net, we look forward to roaring on MacDuff Lions from the touchline to encourage them to keep hitting the back of the net."