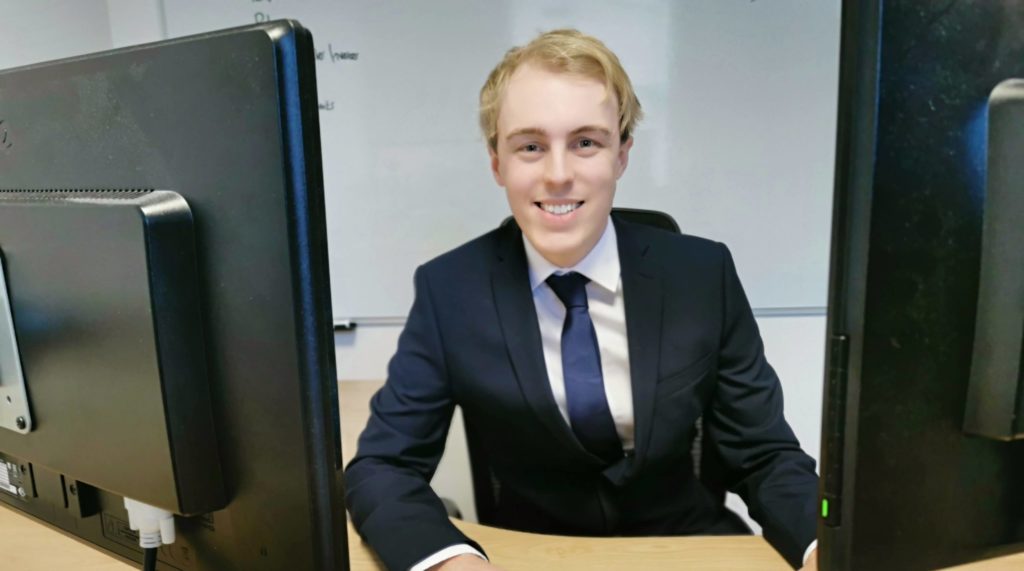 Scottish IT and cyber security company Converged Communication Solutions has expanded its workforce with the appointment of a tech graduate. 
The firm, which has offices in Aberdeen and Inverness, has welcomed Cameron Birnie to its cyber security team in the Granite City.  A graduate of The Robert Gordon University, Cameron has taken up the role of junior cyber assessor.  His appointment strengthens the firm's cyber security team, which now numbers five staff. 
First-class local graduate
Cameron gained a first-class honours degree in computer network management & design from the Aberdeen university in 2020 and is currently studying for a master's in cyber security at its School of Computing. 
At Converged, the 24-year-old is putting his knowledge and university experience to good use supporting businesses and charities in improving their cyber security defences to reduce the risk of a cyber breach and keep staff safe when working online.  This includes guiding them through the UK government-backed Cyber Essentials scheme, from audit to certification. 
Readying clients for Cyber Essentials
Cyber Essentials is designed to protect organisations from a range of common online threats and demonstrate their commitment to cyber security.  The baseline standard involves organisations carrying out a self-evaluation of their digital security practices and data protection measures.  This is then verified by a qualified Certification Body such as Converged, which also holds the same status for the more robust Cyber Essentials Plus standard. 
Cyber Essentials Plus delivers a tougher assessment of an organisation's cyber security procedures.  It involves a Certification Body conducting an independent vulnerability scan within the organisation to test and verify security controls and assess the effectiveness of hardware to defend against external online threats. 
In addition, Converged, which also provides Internet connectivity, telephony, and IT support services, is a certifying assessor for the IASME (Information Assurance for SMEs) Governance Standard.  The IASME standard provides assurance to customers and suppliers of an organisation's commitment to cyber security. 
Not an easy year for graduates to begin their career
Andy McKay, general manager at Converged, said: "It has not been an easy year for any graduate or school leaver to begin their career, so we were pleased to give Cameron an opportunity here at Converged.  He has hit the ground running, applying some of the theory he learnt at university.  We look forward to supporting him over the coming year as he works towards his master's degree, during which time we'll no doubt also be learning from him. 
"Cyber security is an important issue that has the potential to impact everyone, whether at home or work.  Businesses, charities and other organisations are becoming more aware of the threats posed by cyber-attacks and are taking steps to better protect themselves, their staff and contacts.  We are committed to highlighting the importance of having robust cyber defences in place and helping organisations to implement them." 
Joining Converged is a brilliant way to start IT career
Cameron added: "Joining the experienced team at Converged has been a brilliant way to start my career in IT and the recent announcement that they're Outstanding Cyber Team finalists in the Scottish Cyber Awards is just fantastic.  I've learnt a lot from them in a short space of time.  Being able to support clients on their journey to gaining Cyber Essentials certification and helping to implement the steps required to reduce the likelihood of a cyber breach is very rewarding. 
"Gaining practical experience in cyber security while studying for my master's in the subject will give me a well-rounded understanding.  Cyber security and its threats are constantly evolving, so to have access to so many sources of knowledge while I'm studying will be fantastic.  I'm grateful to Converged for all its support."