We are extremely proud of our cyber team for being shortlisted in two cyber community award categories: outstanding community event and community hero (Robbie Ross). This past year has been challenging for everyone, but the team's commitment to raising cyber awareness throughout the Scottish community has never wavered. Good luck to Robbie, our cyber team and all finalists at the Scottish Business Resilience Centre awards on 25th Feb.
Full SBRC announcement below.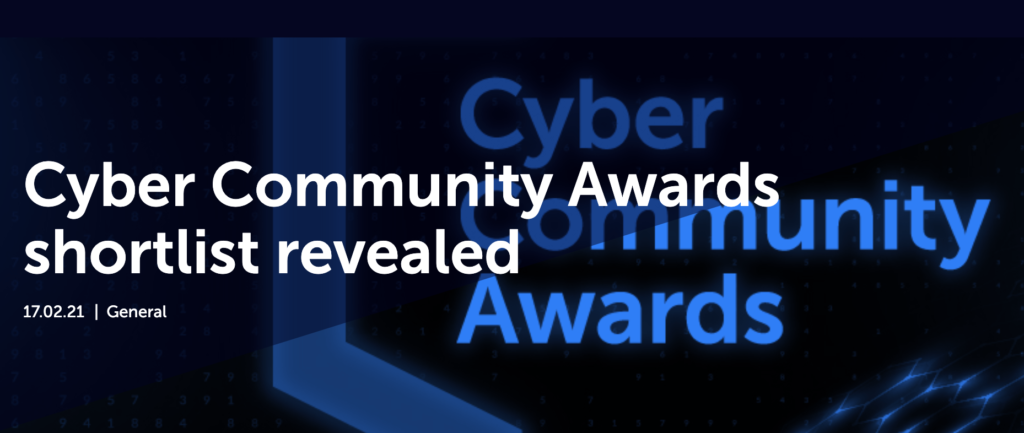 With just a week to go until our inaugural Cyber Community Awards, SBRC is pleased to reveal the finalists that have contributed to keeping Scotland's online community safe, spotlighting those making an impact in their local area.
The virtual awards which feature as part of Cyber Scotland Week will take place on the evening of Thursday 25th February and be hosted by Scottish comedian Fred MacAulay.
And without further adieu…the full list of individuals shortlisted for the SBRC Cyber Community Awards 2021 – selected by the public alongside a judging panel – are:
SBRC Student Community Champion
· Allan Goodwill, Abertay University
· Lewis Binnie, St. Kentigern's Academy
· Kyle Williamson, Glasgow Caledonian University
· Rory Edwards, Peebles High School
· Tia Cotton, Abertay University
SBRC Outstanding Cyber Community Event
· Cyber in School Week – PwC
· GCU Cyber Clinic @ Glasgow Central Station – Department of Cyber Security and Networking at Glasgow Caledonian University
· Getting it Right…Keeping Your Child Safe – Perth and Kinross Council, Education and Children's Services
· What on earth is cyber security? – Converged Communication Solutions in partnership with Highlands and Islands Enterprise
SBRC Cyber Community Hero
· Annabel Turner, CyberSafe Scotland
· Colin McLean, Abertay University
· Gordon Gray, Defcon Edinburgh Meetup
· Robbie Ross, Converged Communication Solutions
· Robert Smith, Serco NorthLink Ferries
Commenting on the shortlist, Jude McCorry, CEO of the SBRC said: "Protecting the cyber resilience of businesses has been a high priority for many this year. The last 12 months have been tough, but we were encouraged to see a high number of entries for these awards – the first time they have been held. As the Awards take place during Cyber Scotland Week, they serves as a positive reminder of the brilliant work being done by individuals and organisations across the whole country.
"The Awards also highlight some of the future cyber champions that will contribute to keeping Scotland safe online. It is always encouraging to see entrants from High School to University putting themselves forward against large organisations – another reminder of the great skill that will help to shape process and policy in the future. I look forward to celebrating with all our finalists next week."
We will have a few surprises for you all on the night, so please do join us for what promises to be a triumphant celebration of the Scottish Cyber Community.