Our Outstanding Cyber Team are delighted to be finalists in the Scottish Cyber Awards 2021. This represents an immense amount of hard work by the whole team and is well recognised.
Well done to all finalists and we look forward to celebrating our mutual success at the awards ceremony next month.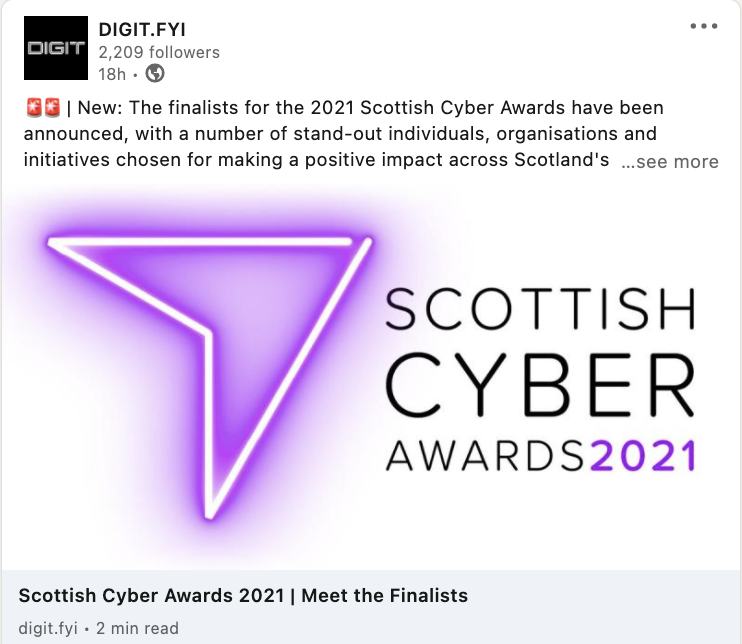 The Scottish Business Resilience Centre (SBRC) has announced the finalists for the 2021 Scottish Cyber Awards.
Now in its fifth year, the awards recognise and celebrate stand-out individuals and organisations making a positive impact in Scotland's cybersecurity sector.
Individual awards span a range of fields, including Best Cyber Startup, Diversity Champion and the Outstanding Women in Cyber categories. Previous winners include Full Proxy, Young Scot and Strathclyde University.
On 30th September, the judging panel for this year's ceremony met to assess the applications, which the SBRC said were the "highest standard" of applications to date.
Jude McCorry, CEO of the Scottish Business Resilience Centre said: "The judges were amazed by the record number of applications, the breadth of organisations who applied, and were in awe of all the amazing work that is going on in cyber in Scotland.
"Good luck to you all, and we look forward to seeing you at the awards."
Andrew Scott, Senior Security Delivery Manager at Accenture and member of the judging panel, added: "I was really impressed with the breadth of experiences, organisations, teams and projects that were submitted, and all going on right now in Scotland."
Scott added: "It was heartening to see and a testament to the Scottish Cyber Community that we have so much to shout about!  I'm really looking forward to recognising everyone's efforts in November."
Scottish Cyber Awards 2021 | Meet the Finalists
Best Cyber Start Up, sponsored by Varonis
CyberShell Solutions Ltd
Lupovis
Polydigi Tech Ltd
Best New Cyber Talent, sponsored by Change Digital
Dhruv Maheshwari
George Miliken
Collaboration with Police Scotland, sponsored by Checkpoint
Cyber Resilience Partnership
SEPA
Vistalworks Limited
Diversity Champion, sponsored by Sapphire
DressCode and the Turing Testers
Lead Scotland
MASCOTS: Edinburgh Napier University / Skills Development Scotland (SDS) and IntoWork
Cyber Educator, sponsored by SQA
Christine Eckford
Colin McLean
Sinead Flannigan
Leading Light Innovation sponsored by ScotlandIS
Ionburst Cloud
MemCrypt/ENU
Seric Systems
Best Cyber Breakthrough, sponsored by Quorum Cyber
Capito Ltd
PlanB Consulting
Softworx
Best Cyber Education Programme, sponsored by BT
Education Scotland
Skills Development Scotland – Discover Cyber Skills Programme
Stop it Now!
Best Customer Experience, sponsored by The Tech Force
Ascent Cyber
Seric Systems
Outstanding Cyber Team, sponsored by FullProxy
Capito Ltd
Converged Cyber Security Team
Cybercrime Harm Prevention Team
Outstanding Woman in Cyber, sponsored by Gigged
Anne-Marie Balfour
Ashley Beck
Sarah Cunningham
Tayyaba Nafees
Outstanding Leadership, sponsored by Closed Door Security
Bill Buchanan
Flo Health
Michael McCullagh